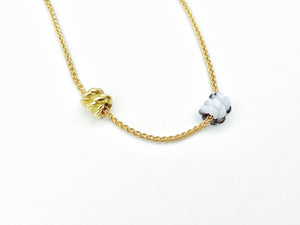 Mini Duo Necklace - Zebra Stone
Sale price Price $2,200.00 Regular price
One hand-carved Zebra Stone knot one solid 18k green gold knot couple together on a 16" gold chain. 
 A beautiful symbol for lovers and family, and every shape that strong bonds take. Knotted for life.
Please allow 6-8 weeks for completion as each piece is made to order. 
Please note that each stone is beautifully unique and the piece you receive may have slight differences from the one pictured.