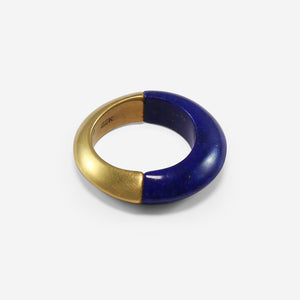 1/2 + 1/2 Ring:Lapis + 22k yellow gold
Sale price Price $2,800.00 Regular price
Half Lapis Lazuli and half 22k yellow gold. 
A unique, minimalist, and luxurious statement ring. Beautiful on its own or worn as part of a sculptural stack. 
6mm wide band
 Size 6 
*Custom sizes available upon request for an additional fee.  
Also available in Zebra Stone + Green gold, Smokey Quartz + Brown gold, Rose Quartz + Rose Gold, and Black Jade + Silver. 


Please note that each stone is beautifully unique and the piece you receive may have slight differences from the one pictured. 

Also take great care when handling or wearing as these stones are fragile by nature and may crack or break upon impact with a hard surface. 
Please allow 6-8weeks for completion as each piece is made to order.