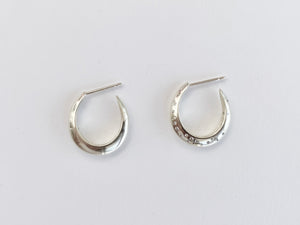 Farrier Hoops with Diamonds
Sale price Price $1,500.00 Regular price
Our nod to the lucky horseshoe - a minimalist hoop in Sterling Silver to bring luck. 

with a Constellation of Diamonds covering one side, that can be worn facing forward or with the diamonds facing behind you - to give a flash as you turn your head or walk away. 
19mm from top to bottom 
18mm wide 
 
(also available in 14k Green gold)
Each constellation of diamonds is one-of-a-kind and unique to each pair. 
The arrangement you receive might be slightly different than pictured, and unique to you! 
* Please allow 6-8 weeks for completion as each piece is lovingly made to order