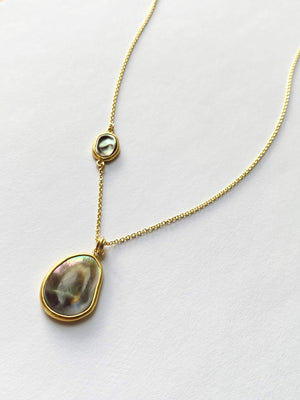 Luna Vada Necklace
Sale price Price $3,500.00 Regular price
Two hand-carved luminous Black Mother of Pearl Pools wrapped in 22k Gold. One large and one small which floats along the chain. 
Hanging off a 30" 18k gold chain
Pendant is 30mm x 18mm with a 22mm x 12mm floating stone 
*Necklace is currently quite plunging, as pictured down to the décolletage, but is also beautiful as a shorter pendant close to the neck. Please contact us if you would like to make that alteration and we'd be happy to shorten it and add a clasp.